Oklahoma
Do you need a new Heating and Cooling System? If so make sure you receive multiple free estimates from all the contractors you contact. And if the contractor or technician try's to charge you for the estimate, you have the wrong contractor to do the job!
At A.I.R. we provide free detailed estimates for equipment replacement and for major repairs. All of our estimates will provide you with model numbers, manufacturer information, warranty information and financing information. And we always thank you for the opportunity to estimate the job and earn your business!
Call 405-618-2247 or 405-421-5191 free your free estimate today!  
Natural Gas or Propane Furnace Carbon Monoxide Poison! How dangerous is it? 
Read the following from Oklahoma Natural Gas Co.
About Carbon Monoxide
Natural gas is safe, clean and reliable. When appliances are installed properly and operating efficiently, natural gas burns cleanly, with little residue. However, if your natural gas appliance produces a yellow flame instead of a blue flame, it is not operating efficiently or is not vented properly. Carbon monoxide can be produced under these conditions.
Carbon monoxide (CO) is poisonous. CO is an odorless, colorless and tasteless gas that can make you sick or, under some circumstances, cause death. Carbon monoxide occurs when fuel does not burn completely. To avoid CO hazards, make sure your appliances are properly installed, cleaned, maintained and vented.
The sources of carbon monoxide can include improperly vented cooking and water heating appliances, auto exhaust, blocked chimney flues and malfunctioning fuel-burning appliances.
Indications that carbon monoxide may be present in your home or building include the following:
Black soot on or near registers, flues, furnace filters, burners or appliance access openings;
Condensation on windows or interior walls (condensation on widows can also be caused by humidifiers or vaporizers);
A yellow flame (instead of a blue flame) on appliance burners;
Recent death of a pet, unexplained illness or dead or dying houseplants;
Absence of draft in your chimney.

Look for symptoms of carbon monoxide poisoning. Always be alert to the possibility of exposure to carbon monoxide. Learn to recognize the following symptoms of carbon monoxide poisoning.
Initially, carbon monoxide poisoning can cause flu-like symptoms, including headache, dizziness, ringing in the ears, fatigue, increased perspiration, nausea, weakness and vomiting.
As carbon monoxide levels increase, symptoms may become more severe and include shortness of breath, extreme muscular weakness, intermittent convulsions, mental confusion and unconsciousness.
Severe poisoning can cause such symptoms as change in skin color to pink, lips and mucous membranes change in color to cherry red, and heart and lung failure.

What to do if you suspect carbon monoxide poisoning: 
Immediately leave the building. Call 911 from a neighbor's phone or call your local fire or police department. Or call Oklahoma Natural Gas at 1-800-458-4251.
Do not re-enter the building until it has been determined safe by emergency response personnel.
Immediately seek medical assistance for any symptoms, even those you think are minor.

Prevention Tips
Make certain your appliances are operating properly, no matter what type of fuel you use.
Check and maintain proper ventilation of the flue and chimney.
Have a qualified heating and cooling contractor inspect your gas furnace annually.
If you see a yellow furnace flame instead of a blue one, it's a warning sign that your appliance is not operating properly. Call a qualified heating and cooling contractor to inspect your furnace immediately.
Clean or replace heating system air filters regularly.
Do not block air intake areas near or around appliances.
Do not use a natural gas range or space heater to heat your home.
Do not start your car, lawn mower, snow blower or any combustion engine in a closed garage.
Do not operate your grill inside an enclosed area.

Carbon Monoxide Detectors
Carbon monoxide detectors can alert you to the presence of carbon monoxide. If you install a detector, follow the manufacturer's directions regarding installation.
DO NOT place a detector in any of the following locations:
Places where the temperature may drop below 40 degrees F
Near paint or paint thinner fumes
In the kitchen or within five feet of open flames from appliances
Near vents, flues or chimneys
Know the sound your detector makes when it goes off. Be able to tell the difference between your carbon monoxide detector and your smoke detector.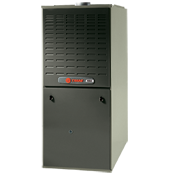 Call (405)618-2AIR (2247) or (405)421-5191 today to schedule a Gas or Propane 26-point  Furnace today. Free Carbon Monoxide test are performed on all inspections.  Or go to http://airokc.com today to schedule an appointment online.
A.I.R. Plus has a financing vehicle that will help you with all of your air conditioning and heating needs for replacement or major repair.
Interest rates are as low as 6.9% on a 36, 48 or 60 month term. You choose your payment amount. W.A.C.
Complete Heating and Cooling Systems start at $99.00 a month ($5000 loan @ 60 months.)  
Call today for more details. 405-618-2AIR or 405-421-5191 or go to our website at airokc.com for more information.
A.I.R. llc is now set-up with FilterFetch to handle all of your air filter needs.
The Following is Included in the program:
Free set-up of air filter program tailored to meet the needs of your Heating and Cooling System!
Free shipping directly to your door!
Free filter change reminder emails!
Special Discounts For A.I.R. Advantage Customers!
Click on the Order Filter button on our home page to get more information about the program and or call 405-618-2247.
http://www.filterfetch.com/contractor-link/C5ZW
Contactor Code CDZW
Thank You for allowing A.I.R. to serve you and to help you with all your HVAC needs!
Proud to be a K-love Business Directory partner!
Listen online or find a radio station near you!
Visit our business page on Facebook.
https://www.facebook.com/airokc
https://www.m.facebook.com/airokc
Future enhancements forth coming for social media sites
A frozen Air-Conditioning Unit is common! Several common issues my cause your air conditioner to have frost on the copper refrigerant lines on the outdoor unit or on the indoor unit. Why? Here is a small list:
Filters are dirty and the air flow over the evaporator coil is being restricted.
A/C charge is low. Which means there is a possbile leak!
A/C is over charged. Which means there is a root cause of a problem and a technician did not catch it or look for it!
Outdoor Fan is not working or the indoor fan is not working or both!
The outdoor coil or indoor coil is dirty and needs to be cleaned!
There is a restriction in the refrigerant lines or a faulty refrigerant metering device.
This list is not all inclusive of the potential problems that can cause an air conditioner to freeze up! But, it is the most common issues found in the HVAC field.
Call 405-618-2247 today if you need profesional help to stop the freezing and get the cool comfortable air flowing in your home or business today!
It's true!
If you are in the need for a complete Hvac System replacement or just a partial replacement we have financing available for almost all homeowners. The attached picture is a recent Trane condensing unit replaced with an estimated payment of only $58.00 a month on a 60 month term. The Trane 13 SEER comes with a 10-Year Conditional Part Warranty and a 1-Year Labor Warranty for years of peace of mind and comfort.
Call 405-618-2AIR for a Free Estimate today and enjoy a cool and comfortable home tomorrow!
* Contract rate and terms are subject to change without notice. Annual percentage rates start at 7.5% and will vary depending on amount and length of the loan and credit score.
A.I.R. is ready and willing to serve the surrounding areas of Choctaw, Oklahoma. We proudly serve the Air Conditioning Installation and Repair needs of Harrah, Newalla, Mcloud, Jones, Nicoma Park, Luther, Midwest City, Del City, Oklahoma City, Luther, Moore and Edmond, Oklahoma. A 30 mile radius from Choctaw is normal for A.I.R. and there is no additonal cost or trip fees when you call for HVAC service.


Free Estimates for system replacement and major repairs are included in our extended service area.
Call 405-618-2AIR for your immediate HVAC service needs.
Thank You as always for considering A.I.R.!